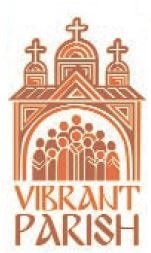 In this article I have been sharing ideas about how to practice the presence of God, an extremely important practice if we are to become vibrant Christians and, therefore, assisting our parish to become a vibrant community. Practice the presence of God by placing yourself deliberately before God every day in your prayers and especially during the Divine Liturgy, by praying the Jesus Prayer many times during the day, by wakefulness and inner attention to each word you pray, and by shutting the doors of the senses to be alone with God for a few minutes each day. It is by practicing the presence that the presence becomes real.
Recently a successful businessman shared with me his secret for preventing tensions (I have found that many high-powered businessmen, even men who are not religious, practice moments of meditation through-out the day to relieve tension). He needed to be renewed at least twice a day, he said, so he had a short period of meditation at 10 and 3 o'clock. This did not take the usual form of prayer for he did not think about his problems but dwelt upon God's power and peace. He placed himself deliberately in God's presence: he thought of the spiritual strength of Christ flowing into him. He reported that those few minutes a day spent practicing God's presence resulted in complete renewal of energy and clarity of mind. "Thou wilt keep him in perfect peace, whose mind is stayed on three" (Isaiah 26:3)
"Close your cell door to your body, the door of your lips to words, the interior door to spirits. Hesychia is worship and uninterrupted service to God" (St. John Climacus).
Like a person in a telephone booth with the door open, we are bombarded daily by the many conflicting voices of the crowd. What we need is to close the door on the crowd daily and listen top the voice of God Who is trying so hard to speak to us.
Perhaps one of the most difficult things for modern people to do is to become interiorly still. We usually have the radio or television playing and people around us, or we ourselves, are constantly talking on cell phones. We have to learn how to hear God speaking to us, knowing  that He does if only we believe.