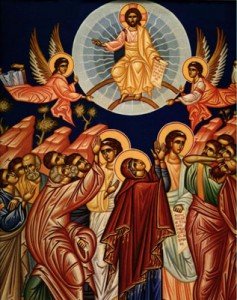 Jesus Christ is "the Way, the Truth and the Life" (John 14:6). He speaks the words of God. He does the work of God. The person who obeys Christ and follows His way and does what He does, loves God and accomplishes His will. To do this is the essence of spiritual life. Jesus has come that we may be like Him and do in our own lives, by His grace, what He Himself has done.
A person can abide in Christ, accomplish His commandments and be in communion with God the Father only by the presence and power of the Holy Spirit in his life. Spiritual life is life in and by the Holy Spirit of God.
The Holy Spirit proceeds from the Father and is sent into the world through Christ so that human persons can fulfill God's will in their lives and be like Christ. The spiritual fathers of the Eastern Church say that the Holy Spirit makes people to be "Christ's," that is, the "anointed" children of God. This also is the teaching of the apostles in the New Testament writings:
But you have been anointed by the Holy One and you know all things… and the unction [charisma] you have received from Him abides in you…His anointing teaches you about everything and is true and is no lie, just as it has taught you, abided in Him…. And by this we know that He abides in us, by the Spirit which He has given us…. By this we know that we abide in Him and He in us, because He has given us of His own Spirit (1 John).
The teaching of St. John is, of course, the same teaching as that of St. Paul. It is the classical teaching of the Eastern Church, make popular in recent times by St. Seraphim, that the very essence of Christian life, is the "acquisition of the Holy Spirit of God. Without the Spirit there is no life.